It's Spring and, then, Summer, and there are a lot of things to do in and outside the house. I am so happy that winter is over. Seriously, it feels like winter was here for more than 6 months. Not cool.
Spring and Summer seasons are the best time to start on just about anything. Some of us will go on vacations and spend time with our families and friends. Some of us will start gardening to make our yard beautiful. Some of us will start DIYing to save some money. The possibilities of endless activities during Spring season is real.
Spring and Summer seasons are expensive seasons. I guess, I should say any season can be expensive. But it doesn't have to be. There are activities you can do that won't cost a dime. There are also activities that can help you earn money.
I like these seasons because this is where the bulk of my income comes from. Christmas season is different, of course, but let's say that Spring and Summer bring in a good portion of my total income for the whole year on my side hustles.
I must say that Spring and Summer are especially ideal for students who want to earn additional money on the side.
Related Posts:
I Need Money: 7 Great Side Hustles To Make Extra Money
To help you get started, I listed some of the side hustles that I have done in the past and that I still do up to this day. Some of these side hustles come and go during the Spring and Summer seasons and some can be done for a couple of seasons.
Whether you are busy or you have nothing else to do, these side hustles can or will bring additional money to your pocket.
You can even earn a living from these side hustles if you take the time, dedication, and effort to make them all-year-round gigs. If you are screaming " I need money!, I need money urgently! or I need money now for free and fast", then, these side hustles could or will help you that.
Blogging
I Need Money!: Side Hustle's Effective Meter: Very Effective
So far, the most successful side hustle I have ever done is blogging. A little over a year ago, I took a chance at blogging, paid around $100 for a year for hosting and domain name, and the rest is history.
Now, I make over $5,000 a month blogging.
Sure, there are ups and downs or pluses and minuses with blogging. But in my opinion, the ups far outweigh the downs.
I like blogging because it is an outlet for me to share my thoughts, experiences, and wisdom on personal finance. I feel happy and blessed when I get to help other people fix or manage their finances even in my own small ways. When I read comments or messages from people telling me they get inspired by my stories, I feel that I do something good for and to other people.
I highly recommend blogging for those who want not only to share their thoughts but also want to earn extra money for months or years to come.
Be one of the few who can start a blog for a special price of $2.95/month instead of the regular price of $7.99/month. That's 50% off the regular price.
This is a special price I negotiated with Bluehost just for my readers. You will get a FREE domain and a great customer service. Really, you are saving money when you use my link even before you publish your first post. That's a best a way to start your blogging journey.
My tutorial will help you establish a blog in 15 minutes or less. You can also sign up for a FREE Blogging course, which is valued over $400 and also gives you access to an EXCLUSIVE Facebook group dedicated to supporting bloggers and help them grow their blog traffic and income. Again, access to these course and group is FREE.
Read: How I Increased My Page Views From 0 to 170K In 9 Months
Mystery Shopping
I Need Money!: Side Hustle's Effective Meter: Somewhat Effective
Do you like shopping? Have you been hibernating because of winter? If your answer to these questions is yes, then, mystery shopping is one of those spring side hustles you need to do.
Shopping doesn't mean you just buy stuff and spend money left and right. If you are a mystery shopper, you get paid to shop. 
A while back, one of my friends was a shopper for ShoppingJobs. As a shopper, you can get paid when you test products and services. You can also give feedback on those tested products and services. How cool is that, right?
Taking surveys without taking surveys
I Need Money!: Side Hustle's Effective Meter: Very Effective
Do you have a smartphone? Do you use it to surf the internet and do other things? Do you hate taking surveys? If your answer to these questions is yes, then, there's a money-making solution for you.
Do you know you can still earn money every month even when you're not doing anything? Yes, that's true. There are some apps that will pay you cash, rewards, points, etc. just by having those apps downloaded and running in the background of your phone.
In general, the way these apps work is that they track your browser activities and get such data in a secured way to help businesses make better products and decisions. Here are some of the apps that can help you make money each month. I suggest downloading these apps as these will help you earn more in a given month.
Survey Club (Could earn at least $50/survey)
Survey Savvy (Earn $5 per device per month or up to $180 per year easily)
Smart Panel (Earn $5 per device per month plus quarterly loyalty bonus)
Nielsen Digital Voice (earn without taking a survey)
National Consumer Panel (Get rewarded for sharing your grocery list)
Read: 100 Best Ways To Earn Extra Money Fast
Taking surveys
I Need Money!: Side Hustle's Effective Meter: Very Effective
My wife and I make at least $150 a month taking surveys. Though many people may not consider this as a substantial amount of money, this amount certainly pays some of our bills, which means that the portion of my salary that would go to bills end up going to our savings account and other investments because our survey money takes care of those bills.
You can take surveys anywhere you are because surveys have become mobile and can be done just about anywhere.
Here are some of the survey sites my wife and I go to. I should say these are the sites my wife goes to since I don't put in as much as time as she does since I focus on my day job and blog. Also remember that signing up for these surveys is FREE. I also included a proof on how much we earn on one of the surveys we use (i.e. $700 in just two months).
Selling DIY stuff
I Need Money!: Side Hustle's Effective Meter: Effective
If you have the creative mind and can turn some things into treasures and sought-after products, then, use it to make money. I'm referring to selling DIY stuff.
When my wife and I were paying off our debt, one of the things I did to earn additional income on the side was refurbishing old furniture to make them look new and sell them on Craigslist.
I'll tell you that I earned a lot of money this way, which sometimes was around $400 a month. My only investment was a couple of tools and paints. I usually looked through Craigslist or newspapers or community ads to see who was giving their old stuff away for FREE. I, sometimes, paid a couple of dollars if the products were something I could get bigger profits from. But most of the time, I went with free stuff.
If you want to start DIYing and selling the finished products to your friends, on Craigslist, ETSY, and other sites, you may need the following tools and other materials:
[easyazon_link identifier="B01MZALAD9″ locale="US" tag="theprasav-20″]Sandpaper[/easyazon_link]
[easyazon_link identifier="B00C625KVE" locale="US" tag="theprasav-20″]Power tools[/easyazon_link]
[easyazon_link identifier="B00ATJSD8I" locale="US" tag="theprasav-20″]Paints[/easyazon_link]
[easyazon_link identifier="B000C011CE" locale="US" tag="theprasav-20″]Varnish[/easyazon_link]
Read: 11+ Extra Income Ideas For Introverts
FBA Reselling
I Need Money!: Side Hustle's Effective Meter: Effective
If you have gone to Amazon and see some products are "Fulfilled By Amazon" (FBA), many of these products are products sold by individuals and merchants.
You may consider selling through Amazon, that is, if you have keen eyes for bargains and are able to purchase products for deep discounts. I saw an article, which features a couple who makes $100,000 per month. Yes, that's per month not per year.
You can buy at yard sales, thrift stores, discount stores, and others. You just need to make sure that the products are of quality and use the FBA app to see if you can make a profit or not.
I recommend you check out these books to understand more about the ins and outs of FBA:
[easyazon_link identifier="1536954527″ locale="US" tag="theprasav-20″]FBA – Building an Amazon Business – The Beginner's Guide[/easyazon_link]: Why and How to build a profitable business on Amazon
[easyazon_link identifier="1477448403″ locale="US" tag="theprasav-20″]Introduction to Sales Tax for Amazon FBA Sellers[/easyazon_link]: Information and Tips to Help FBA Sellers Understand Tax Law
Yard Selling
I Need Money!: Side Hustle's Effective Meter: Effective
Spring is the best time to get rid of the stuff you no longer need. Sure, you can donate those products to thrift stores and charitable organizations. But if you want to make some money from them, yard selling is a way to go.
We don't do yard sales because we don't have a lot of things to sell. But we do visit yard sales in search for discounted, great products.
Almost every Saturday during Spring season, my wife and I go to the yard sales to see what people have. Sometimes we buy and sometimes we don't. Let's say, we get to bond, not spend a lot of money, and have a great time.
There's money in yard sales. I know a couple of people who would buy on yard sales. They buy barely used, almost new, or new products from yard sales and sell them for profit through Craigslist and some other selling-related websites.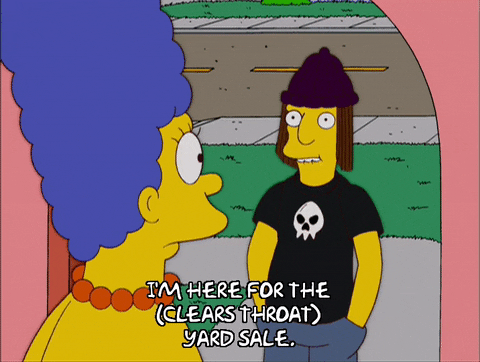 Are you still screaming "I need money! or I need money today for FREE!"? Are you ready to make some money through these side hustles? Do you know of any other side hustles that can bring in some nice cash for you?