Having a perfect credit score of 850 is a dream for many people but, of course, not a lot of people will ever get it.
If you are looking to boost credit score overnight (of yours of course), this is not the post for you. There's no shortcut to get to the score you want.
According to Fool.com, only 1% of the population has that perfect credit score. Don't fret if you are not one of them or will never be one of them. If you have an excellent but less than perfect credit, you can still pat yourself on the back.
There are tips or ways that you can apply to improve credit score of yours, whether yours is bad, good, or excellent.
Remember that, in general, increase in credit score is based on age of your credit, your credit behaviors, open and closed accounts, among others.
Before I discuss the ways to improve your credit score, always remember that the score is important especially when you want to make a loan or even just rent an apartment. This doesn't mean that you should be obsessed with your score all the time.
Related posts: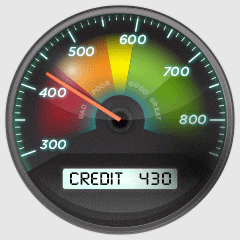 Tips To Increase Your Credit Score
Back to the topic. Here are the various ways that will greatly help you in improving your credit score faster than you think you can.
1. Always check your credit score.
Reviewing your score can and will help you identify any anomalies in your credit report. Your credit report will indicate what's causing your credit score to go down.
Don't be surprised if your score fluctuates. It's totally normal but it is always a great idea to look into it from time to time. Don't be afraid to check get you credit report even monthly.
I regularly check my credit report monthly for FREE (see image of my credit below) using Credit Sesame. Best of all, the credit pull Credit Sesame does is a soft one and won't affect my credit score.
With it, I know what's going on with my credit inside and out. When there's anomaly, I easily contact Credit Sesame and it will do its magic to correct the problem.
I know you'll agree with me when I say your credit is of utmost importance to you and that you want to protect it as much as possible. Now more than ever, it is important to guard it especially with the identity hacks that are going around.
Click here to get a FREE account with Credit Sesame. The sooner you check your credit, the better the chance you can start improving your credit.
2. Ask for a credit limit increase.
It doesn't hurt to ask your credit card companies for a credit limit increase. A lot of card companies increase their card users' limits even without pulling their credit reports. You'll be like, huh?
This is true. A lot of credit card companies will review your spending pattern and will provide an increase even without taking a look at your credit history, that is, if you actively request for an increase.
Sometimes, they will only need to look at how good or bad of a payer you are, how much or little you charge in your credit cards, etc.
Your goal for requesting a credit limit increase should be primarily because of your need to improve credit score of yours and not to pay for bills, expenses, wants, and others.
An increase in your credit limit results in better credit utilization ratio. A better ratio means improved credit score. As simple as that.
Read: One Trick That Saves My Family $250/Month on Groceries
3. Get rid of the old credit blemishes.
When you get your credit report and you see errors, immediately contact the credit bureaus to dispute such information.
You may also try to dispute old, negative information in your credit history hoping that the creditors won't notice such dispute.
Without any responses from the creditors, your old, negative information will just be deleted from your file.
4. Pay off your debt.
This is a simple trick on how to increase credit score to 800, 750, or even 700.
Never expect that you can substantially increase your credit score without paying your debt.
Remember, one of the factors used in credit scoring is your credit utilization ratio. If you have debt, it's better to pay it off as fast as you can. Paying it off will surely help improve credit score of yours.
It's in your best interest to pay it off. Not only will you improve your credit score, you will also pay less on interest charged on that debt. Really, you're getting two benefits by just doing one step.
The truth is, paying off debt is easier said than done especially when you are relying on debt to fulfill your needs or you don't have enough to pay it all off.
The longer you pay the debt off, the larger the cumulative interest charge will be.
When short in funds, try to reduce your debt as much as you can. You can let go of unnecessary wants.
You can even use Spentapp. It is a personal finance app that not only helps us make better, FREE financial decisions based on our financial activities but also give us cash back for purchases we make.
Click here to try Spentapp and see how great it will help you straighten your finances.
5. Make payment reminders.
Many people just don't have enough time in a day to complete all their responsibilities.
If you happen to be busy and can't keep up with the payment due dates on your credit cards and loans, do not worry. A lot of banks and loan institutions offer payment reminders.
They can send you automatic texts to remind you of upcoming due dates. You can also make automatic payments, a feature that most institutions offer now.
You just have to set up the reminders, complete the automatic payment option, and you are good to go.
Making on-time payments is one of the factors that can improve credit score of yours. Failure to pay on time may or will negatively affect your score.
I said "may" because many credit card companies won't report late payments until you are 90 days past the due date.
Read: 30+ Money Saving Life Hacks
6. Use your cards like crazy.
You'll be like, "you've got to be kidding me". Hear me out on this one before you stop reading.
The only reason I include this is that I have received consistent increase in my credit limit without asking for one.
When I say I use cards like crazy what I mean is I let my siblings use whatever amount they want to charge on my credit cards as long as they make the payments before the statements close.
When I allow my siblings to use my cards, I make sure that I let them use the ones that give me cash back.
To make the story short, aside from automatically receiving credit limit increase from time to time, I also get substantial cash back because of the hefty charges I (or my siblings) put in my credit cards. If you ask me how much cash back I earned in 2015 from all my credit cards, I would say the amount was in excess of $1,200.
I guess the credit card companies see me as a responsible and high spending credit card user.
7. Charge less.
Credit card companies report the amounts from your closing statements. Similar to tip #6, it is in your best interest if your closing statement balance is closer to zero, if you can't pay it all off.
Even if you fully paid the amount you owed from last month, the credit card companies will still use your closing statement balance for reporting purposes.
If you still happen to have a large amount of outstanding charge after you paid the previous month's total bill, try to pay additional so you can lower your closing balance.
The lesson here is to charge less.
Read: One Income Family: We Cut Expenses by $7,000/Yr Doing These
8. Avoid opening new credit cards or loans.
Because age of credit is one of the factors in credit scoring, avoid opening new credit cards or loans. Though you may be increasing your total credit limit, if you are approved for such loans/credit cards, you are affecting the average age of your credit.
For example, if you have one credit card that you've had for 10 years and you opened a new one. In the eyes of credit scoring, it will look like your average credit age is around 5 years.
Your credit score will take a hit because the average age of your credit is reduced and because of the hard inquiry that the credit card company made against your credit.
9. Consolidate your credit cards.
If you happen to have multiple credit cards with high interest rates and have a card with a promotion of "XXX months no interest for transfer balance", you may consider taking this promotion.
You'll probably ask me how consolidation increases your credit score when your total debt remains the same. The answer relies on the interest charges.
The reason that I included this is that consolidating your credit cards can help lower the interest charges you pay each month. It can lower your interest charges provided you transfer balances from cards with high interest rates to one with a low rate.
Less interest doesn't necessarily mean automatic increase in your credit score. One way you can improve your credit score is by putting the money that would have gone into interest towards the outstanding credit card balances.
Read: Earn Money Online: I Earned Over $18,000
10. Be patient.
Don't expect your credit score will jump right away after you try all of the tips mentioned above.
Credit score increase doesn't happen overnight. You may see the increase after a couple of weeks because closing statement dates on your credit cards may all be different and it may take a couple of billing cycles before you see any chances.
Sometimes, you need a couple of months to see results but just be patient.
The tips I provided above will help you in improving your credit score. As I said above, your credit score won't jump overnight but any positive changes in your debt habits will likely bring positive changes in your credit scores.
Final thoughts:
"How long does it take to improve credit score?" That's the question I can't answer. However, these are the best ways to improve credit score of yours.
These tips and tricks have truly helped me improve my credit score. Without these tips and tricks, my wife and I wouldn't be able to get a house (just because having a good credit was really important), a car, etc.
Which of these tricks are you going to try? Do you have ways to improve credit score of yours?
Related posts: