This " February 2017 Blog Income Report: I Made $6,852.01 Last Month " is my second income report for 2017 income report. I made it past a year, and my blog is still growing. This post contains affiliate links/ads. See disclosure policy. 
Hi, everyone!
Welcome to my February 2017 income report. This is my second income report for the year 2017. There have been so many things that happened this past two months that made me make some adjustments to my blog.
This month is a different month. It's not only because I earned the highest income since I started but also because I went on semi auto-pilot month this past month. What I mean by that was that I had all my posts and pins scheduled ahead of time. In sum, I only spent less than 20 hours this month touching my blog.
Having said that, I started ramping up my effort to get more traffic from Pinterest. I enrolled in a Pinterest course to learn more about Pinterest. Honestly speaking, I'm learning so much from this course. If you look at my account, you will see a lot of changes, some visible and some not-so-visible.
Previous Months' Blog Revenues
For those of you who haven't had the opportunity to see how my blog has progressed over the past couple of months, here is the information. I compiled all my income reports for 2016 for easy access and just to give an idea how I have done (money-wise) with my blog. I also include the January 2017 income report for your information.
Most Visited Posts
I credited my traffic and income to several posts I published this past couple of months. I did not know so many people would see these posts. Here are my most read/visited blog posts for the past month:
Why Blog My Income Report?
Before I show you my blog traffic and earnings for February 2017, let me tell you why I wanted to blog my income.
Income Progression. I like to see my progression (income) from one month to another and want to share it with other people.
My blogging income only covers the income I made from blogging. Basically, I don't count my day job income, freelance writing, and everything unrelated to blogging. This way, the readers know this income report is about blog income.
You will see survey money in this report, too. This survey money is affiliate money. This survey money is not the money my wife and I earn from taking surveys.
Success and failures. Blogging is not as easy as many people think. If it were, then, a lot of people would be doing it and be making money. You can and will succeed in blogging, but you will have to invest time and effort.
There is a learning curve in blogging. You will definitely go through a ton of trials and errors. You will succeed and failed along the way. One piece of advice I can give you is not to be discouraged, though, if you fail because that's part of blogging.
I can't remember the number of times I made mistakes with my blog. These mistakes caused big problems but I didn't quit. I took them as lessons and learned from them.
Be one of the few who can start a blog for a special price of $2.95/month instead of the regular price of $7.99/month. That's 50% off the regular price. Plus, you'll get a FREE domain and a 30-Day money back guarantee. Wow! That's a lot for $2.95/month.
This is a special price I negotiated with Bluehost just for my readers.
Really, you are saving money when you use my link even before you publish your first post. That's a best a way to start your blogging journey.
My tutorial will help you establish a blog in 15 minutes or less. You can also sign up for a FREE Blogging course, which is valued over $400 and also gives you access to an EXCLUSIVE Facebook group dedicated to supporting bloggers and help them grow their blog traffic and income. Again, access to these course and group is FREE.
Reward. I want to show people they can earn money through blogging.
For those who want to start blogging, you will see a lot of posts stating it is a scam. If you have not seen them yet, you will eventually. Blogging is not a scam. Not at all.
I have earned at least $34K in 2016 just by sharing my thoughts on personal finance and experiences. Please don't get me wrong. Blogging can and will be rewarding but ain't easy. You need to put in your patience, time, and dedication to make blogging work for you.
You could earn money from blogging. I took a risk and paid $100+ to get my blog up and running. It paid off.
The best advice I can give you is to blog what you love. Period. When you do that, it feels like you are just having fun or working on a hobby. That's exactly how I feel.
I love personal finance. I love managing my money and making sure that my family has money now and in the future so we can meet our needs. So, that's what my blog is all about. Whether you like to cook or create a DIY project, make sure your blog speaks your interest.
If you want to learn if blogging is for you, please check this post "Is Blogging For You?: The Truths About Blogging"
Inspiration. I want to serve as an inspiration to those who started or think of starting their blogging journey. I honestly did not think it's possible to earn money this early on, but it has happened. I was skeptical about blogging at first, but I took a chance and tried it anyways. I know it will only continue to be better from here. I can sense it. I want to share to the world earning this early is possible.
A lot of bloggers have messaged me and told me that I gave them the encouragement to go further with their blogging journey or purse blogging because of what I have done and what I have accomplished. For many, I was an inspiration especially for those who wanted to quit early on in their blogging journey.
I believe my commitment, tolerance, willingness, perseverance, and a ton of luck continuously help me with my blogging success.
Transparency. I believe in transparency. While I blog about everything under the realm of personal finance, my blog is also a monetary vehicle for my family. That's the fact.
When you see ads in my posts, those are income-generating ads. When you see highlighted links, those are affiliate links.
When you see companies I recommend or use; those companies may provide me commissions. I only recommend products and services I use and I believe will provide beneficial effects to my readers.
I have been fortunate to receive offers from different companies. I choose to limit those offers simply because I don't want to share products and/or services I do not think are good or beneficial to my readers.
Let's put it this way. If my intentions were just to make money, I would be able to make more because of those offers. But that is not my primary intention.
Are you thinking of starting your own blog but afraid to do it?
I was a new blogger and I felt the same exact feeling that you might be feeling right now. You are not alone in the boat. There are a lot of new bloggers who feel they don't know where to start, how to start, how to build audience, etc.
I recently created an e-book entitled "15+ Strategies I Applied To Skyrocket My Blog's Page Views from 0 to 170K in 9 Months". In this e-book, I detailed the exact strategies I adopted to drastically improve my blog's page views from 0 to 170K in just 9 months.
If you ask new bloggers, getting 30K page views is hard while getting 170K in such a short time is close to impossible but doable. I discuss the strategies that you can apply right now. Yes, you can apply these strategies without any blogging experience.
Is it only designed for new bloggers? Absolutely not. If you want to increase your blog page views, this is also for you.
You can avail this product for the price of $24.99. The regular price is $39.99. This e-book is your guide to getting the page view your blog deserves.
Tips for Bloggers
I have dealt and used ad networks to find the best of the best products to offer to my blog readers. I don't just apply and use the offers from these ad networks because I want to make sure I bring forth products that truly help my readers make money, save money, and manage their finances effectively.
It can be exhausting to find networks that will really help you and your blog propel to new heights especially when there are thousands of them over the internet and you can't figure out the right ones for you. If you are a publisher or a blogger and are looking for ad networks that work and pay out really well, I highly recommend the following ad networks.
I'm recommending them because I get positive reviews from my readers and my revenue from these ad networks are great (to say the least).
If you are in the personal finance niche and are looking for survey sites to add in your list of income-generating networks, then, IGain is for you. I have made over $2,000 over a few months with this ad network. The range of survey sites impeccable. The customer service it provides is beyond outstanding. I've worked with a lot of ad networks and IGain's customer service is, by far, the best.
If you are looking for exclusive offers, which can't be found anywhere else, then, IGain is for you.
In addition, one of the most exciting things about this ad network is that it offers games and promotions almost every month. Some of their past promotions included increased payouts, cash incentives, and Amazon gift cards.
Truly, there are so many great things about IGain.
I lumped these two together because they are almost the same in many respects. They have a ton of offers for just about any product out there in the marketplace.
Whether you are in the personal finance niche or fashion niche or food niche or something else, Share-A-Sale and FlexOffers. At one point, I made over $1,000 in one month from FlexOffers.
I mainly used it for survey-related offers but it caters a wide range of niches. Some of niches include, but are not limited to, pets, family, books, health, beauty, entertainment, games, employment, education, and home. A  bulk of my earnings for surveys come from Panthera. I have earned thousands of dollars from this network in such a short time period (i.e. in upper $1,000 a month).
I'll tell you that I'm not alone when I say I make a lot of money (i.e. commissions from Panthera). A friend blogger of mine who is in the fashion niche makes at least $600 a month through Panthera. Another friend of mine who is health and fitness makes around $900 a month.
February 2017 Blog Income Report : I Made $6,852.01 Last Month
My blog income for February 2017 increased by 41.12% from January. My blog traffic increased to 176,007 views.
Income and Expense Strategies
To improve my income, I employed several income strategies. These strategies included working with advertising networks and becoming affiliates for products and services I use, which helped me earn commissions when people sign up for such products and services. I also allowed businesses to do guest posts on my blog and/or to be mentioned in my post for a set fee.
I don't promote products I won't use or even recommend to my loved ones. I turned down a lot of great opportunities from a lot of companies because I didn't feel my readers or I could benefit from what they offer. I just don't want to compromise my beliefs.
I also focused more on Pinterest and bought a course for Pinterest. I've been applying the lessons I have learned from the course. The main reason I bought this course is that I want to capitalize more on the power of Pinterest in terms of generating traffic and additional income for my blog. I will let you know in the next month's report how this course is going for me.
Here are the products and services I recommend for those who want to make money, save money, and better manage their finances. I get these offers mostly from my ad networks.
Bluehost: $375.00
I did not know anything about coding, WordPress, and other things related to blogging. With Bluehost, you can create your blog in 15 minutes or less. I took a chance and it paid off. I earned over $34,0000 in 2016. For $2.95/month, you have little or nothing to lose but, potentially, a ton to gain.
iGain: $250.10
Read: The Most Comprehensive Survey Site List You'll Ever See
Offer Juice: $67.95
Roughly around 20% of my readers are from outside the US.  After a couple of months of research, tests, and trials, I found those opportunities… thanks to Offer Juice. If you live outside the US, here is the link to the best surveys outside the US.
Panthera Network: 1,238.54
This is my newest publisher network. I mainly used it for survey-related offers. A  bulk of my earnings for surveys came from Panthera. I started using it on February 3rd and I earned at least $1,200 already.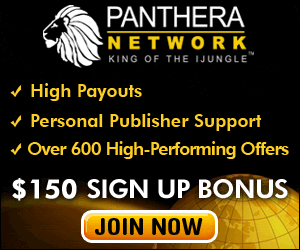 Tailwind: $180.00
Tailwind is the reason my traffic increased in such a short time. I've been blogging for less than a year but my traffic per month hovers around 150K. If you sign up using my link, you will get $15 as well. There's a Tailwind Free Trial, and you can also subscribe for $9.99/month when you sign up for a year. You can always contact me for FREE if you have any Tailwind questions. I don't charge for helping bloggers, but if you want to donate, you can do that as well. 🙂
Adthrive: $835.62
Google Adsense: $245.35
NewsMax: $78.26
Smart Asset: $120.10
Sponsored Posts/Mentions: $3,461.09
Total Gross Income: $6,852.01



Expense: $197.00 (Pinterest course)
Total Net Income: $6,655.01
My Pinterest Coaching Side Hustle
I am currently pausing my Pinterest coaching side hustle for one reason. I like to spend as much time as I can with my family and also with my blog. I like to grow my blog in terms of traffic. This is also why I decided to enroll in a Pinterest course.
I do have my own strategies that help me with my blog traffic from Pinterest. I like the idea of learning more about Pinterest and that's why I decided to enroll in the said Pinterest course.
Social Media Strategy
I have been asked so many times what my strategies are to increase my traffic. The shortest answer I can say is I heavily focus on social media. When I am not creating my post or working on my blog design, I focus my time using Pinterest. I don't pay a ton of attention on Twitter and Facebook.
I decided to focus on Pinterest. I made the right call.
If you want to know how I was able to increase my traffic from 0 to over 170,000 in just 9 months, please follow the blog post below.
Read: How I Increased My Page Views From 0 to 170K In 9 Months
My Pinterest presence is great. Since I started using it a couple of months ago, I have gained a lot of followers every day. As of February 2017, I had 12,541 followers.
How did I improve my Pinterest presence? I credited my Pinterest success to my favorite program, Tailwind. I just cannot stress enough how Tailwind has helped me improve my blog's traffic in such a short time.
Some of the features of Tailwind include:
Pin scheduling (Optimize pinning schedule based on your audience's engagement)
Time management (by allowing you to do multi-board pinning, bulk upload, and others)
Content discovery on Pinterest right from Tailwind
Results Measurement (see which pins are working and which aren't)
Pinterest Management, Analytics, and Marketing Tool
FREE trial.  I recommend you opt for a year subscription for only $9.99/month with unlimited pinning ($119.98/year) versus monthly subscription of $15.00/month with 400 schedule pin limit per month.
If you sign up through my link, you will also receive $15.
What I Did and Didn't Do
I decided to include this section because I know a lot of my colleagues (i.e. bloggers) and those who want to begin blogging would love to see what I did to earn money and increase my traffic. This also includes the things I didn't do or failed to succeed on.
Did do
Layout. I once again changed the layout of my blog. I've been having some SEO problems because of my blog's slow page speed, which affected my traffic and income. With the change of the layout, I have seen dramatic improvements in both, that is, my income increased and my traffic. I don't know if it's primarily because of the layout but I can say that the layout change contributed to such great increase in traffic and revenue.
YouTube Channel. I've been planning on creating a YouTube channel for The Practical Saver. Finally, it's here. I have 4 videos up already and have made $10 from Google Adsense, which I included in my income report located above.
Pinterest course. I enrolled in a Pinterest course. So far, I am loving the content of the said course and have been applying the lessons I learned to help me gain more traffic from Pinterest, increase my followers, and increase my blog income through increased Pinterest traffic.
Pinterest Boards. My Pinterest collaborative boards have gained a lot of contributors. In the past month, at least 50 people became contributors. I consider it as an accomplishment because a couple of months ago, I only had a handful of contributors and less than 10 pins before I opened it to the Pinterest community. There are a ton of people who emailed me or messaged me stating they wanted to join. I have not really gone through all of them, unfortunately. But I will. As of January 31st, the statistics for these boards are:

Bloggers' Portal – 56,125 pins and 425 contributors (accepting new contributors)
Money Tips – 20,173 pins and 130 contributors (accepting new contributors)
Did not do but should have done
Reviews. I planned on creating reviews for some of the products I have used in the past. I have been asked by a lot of people what I thought about Acorns and Bluehost, to be specific, but was not able to create these posts.
New products. I have so many products to try and/or review in my inbox right now. I have not had the time to get through them for a couple of reasons: (1) I decreased my blogging time to spend more time with family, and (2) I worked on some honey-do list this past month (It was a long list).
March 2017 Goals
Going through life, in general, without a goal is like walking on winding road without a foreseeable end in sight. The blogging goals I set for this January are both easy and challenging to achieve.
Page views. I want to see 10,000 views a day, at least. Maybe it's impossible to achieve it, but I will try my best to make it possible. (February Goal: 7,000/day ; Result: 5,678/day) – Failed. Getting closer, though.
Income. I want to double my income from January. Yes, double the amount it is. (January Goal: Double my February's income ; Result: $6,852.01) Didn't reach it. But, of course, I am more than happy to earn additional money.